3 Great Projects to Add to Your Landscape
Whether you are prepared outdoor living or not, you will want to take advantage of the nice weather while it lasts. Adding to your outdoor space here in the Dallas/Fort Worth area is an awesome idea not just because of the weather but also because it allows for another place of entertainment. Here are some great fencing projects that will improve your home's landscaping design: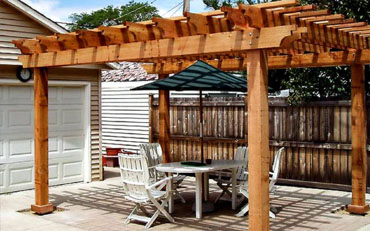 Create A Unique Vertical Garden by Hanging Planters on The Fence
Vertical gardens are a great way to add a personal touch to fencing and other areas of your landscaping. If you have a wood fence, you can build your own planters and fasten them to the fence with screws in any pattern you want. To fasten wood planters to a chain link or other metal fence, drill holes in the back of planters and fasten them with metal wire. Make sure you use enough wire to support the weight of planters.
Adding Bench Seating and Planters That Match Wood Fencing Materials
Bench seating is an invaluable addition to outdoor space. It seems that there are never enough seats when you have a crowd over for a cookout. Create wood bench seats to provide more seating to the landscaping around your home. Use wood materials that are the same as the material used to build your fence or features like outdoor privacy screens. The benches can even be built into wood fencing, which will help add strength to both the fence and the new bench. You can also build some planters to match your new benches.
Give Your Yard a Little Bit of Shade with Arbors and Pergolas
Pergolas and arbors are another great options if your yard gets a lot of suns and you need some shade relief. There are kits available, as well as wood fencing materials that can be used to build new arbors and pergolas to add attractive accents to your landscaping. Use arbors for entrances at fences to give your home added privacy and pergolas to provide shade for outdoor seating and gathering areas. Pergolas can also have automated canopy installed with them to give you control of shade and sunlight, as well as cover from rainy weather.
When the weather is at its best, take advantage of your free time with some of these unique fencing projects. Contact us to get the fencing supplies you need for your weekend warrior projects.