Fence Styles: Board on Board
If you're looking for a fence that offers privacy and security at an affordable price, a board on board fence may be just the ticket for you. The term "board on board" describes a fence made of boards nailed (in various configurations) to a post and rail framework. Posts are usually sturdy 4″ x 4″ or 4″ x 6″ wood or metal, making a board on board fence a durable option for homeowners. Many people consider board on board fencing a "neighbor friendly" option since both sides have the same appearance. Because of this double-sided 3-D effect, it's also frequently dubbed "shadow box" fencing.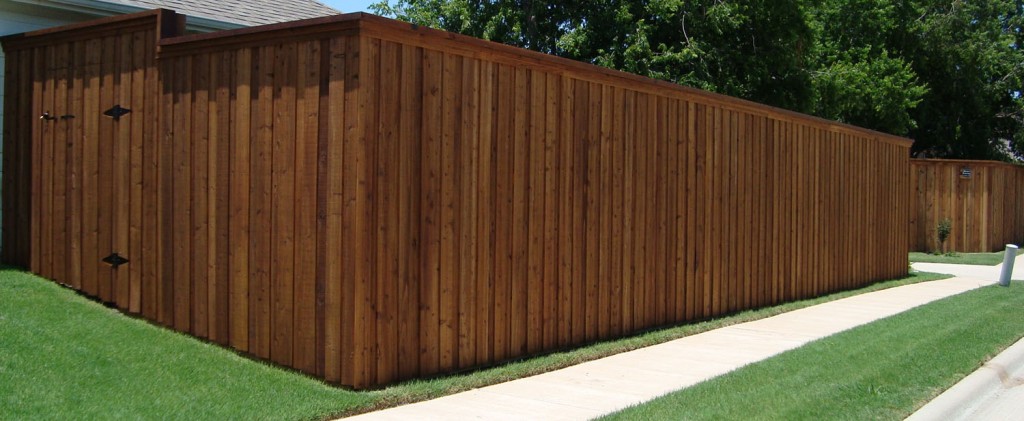 Flexible Pricing for a Long-Lasting Fence
The price of a board on board fence is flexible depending on the type of wood used, and the desired height (generally 4″, 5″ or 6″ high). Many people choose red cedar because of its natural appearance and its innate resistance to both insects and the elements. Add a clear weather-proofing treatment and your cedar board on board fence can last for decades.
Gates
Matching or coordinating gates can easily be added to your board on board fence where necessary, and you can dress it up or down through your choice of hardware.
Customize Your Board on Board Fencing
Fence tops can be concave, convex or straight and the style of a board on board fence can be customized by varying board widths and heights.
Choosing a Fence Height
Deciding on how high your fence should be will depend on your primary reason for installing a fence. Following are some guidelines according to the folks at "This Old House"
To corral kids and pets, choose a 4′ high fence.
To surround a pool, use a 4-5′ fence (but check your local and state building codes to be sure)
For privacy, go with a 6′ fence. (Anything higher probably requires a special permit.)
For top quality fences and expert installation in the Ellis County, Texas region contact us today at Woodcrafters Fencing!