Pergolas: The Perfect Outdoor Complement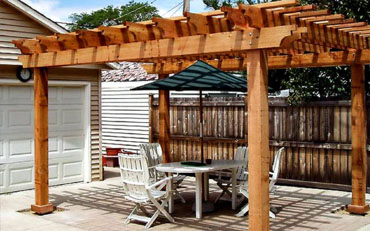 Outdoor living spaces have become important parts of residential landscapes and are a feature that many new home buyers look for. Where there was once simply a patio and barbecue, you're now more likely to find a full outdoor kitchen. Because additional space dedicated to open-air entertainment is highly desirable, outdoor structures now add both value and marketability to your home.
Pergolas are one of many excellent options you can choose to enhance your home. Not only are they beautiful additions that add aesthetic interest to your patio, deck or yard, they're also functional in several ways. These archways can be crafted in a variety of styles and offer some distinct advantages and opportunities.
Lighting. You can light up those warm evenings on your deck or patio – a pergola gives you the perfect spot to add lighting inconspicuously so you can enjoy your yard after dark. You can also add light strings for a festive or romantic effect.
Shade. A roofed pergola over a sitting area can offer some shade on those hot summer days when you want to relax outdoors but need a break from the sun. You can even attach lightweight fans to add a welcome breeze or drape elegant or casual outdoor fabric for more shade and a sultry look.
Accent plants. Hang flower baskets, trailing vine baskets, or even let ivy grow over your pergola, depending on the look you want. This brings more color, texture and life to your deck or patio.
If you're considering adding a pergola or any structure to your home's outdoor living space, contact us to discuss the possibilities. We'll be happy to work with you to design the perfect solution for your outdoor needs.