We Provide Wood Fence Staining Solutions
Stained wooden fences add charm and value to nearly any property. Is the wood fence around your home or commercial property starting to look grey and deteriorated? Do you have a new wood fence that hasn't been finished or protected yet? Choosing the right contractor that uses the best materials will produce the best results for anyone that wants to add beauty, value and lasting durability to their wood fence.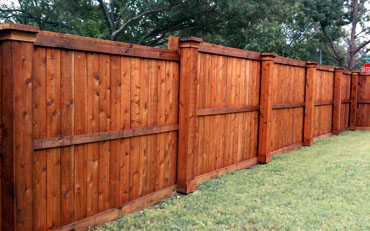 Quality and Reliability
Woodcrafters Fencing is a family owned and managed business and we've been around for over twenty-five years. We're here to help property owners in the Ellis County, Texas area. We specialize in installing and repairing all kinds of fences. That includes fences that are made from various kinds of wood. We know how to effectively stain and coat any kind of wooden fence. We can also stain your deck!
We use quality wood finish products for the best results. We are confident of our craftsmanship and that's why we offer a warranty that's good for ten years for materials and labor. Knowledge, experience and quality materials add up to the best possible services and products for our Texas neighbors!
Protect and Add Value To Your Fence
Finished and coated wood fences have better protection from the weather, which can be challenging in Texas. Stained fences have more protection from UV sun rays and from excessive moisture. The overall lifespan and beauty of any wood fence is increased considerably after it's been properly stained and sealed.
Wood stain comes in a variety of colors that can be used to match the color scheme of your home or business. We can help you to decide which wood stain is best for that. Is the wood fence that you already have weathered? We can restore it's beauty while also adding value to your fence and property.
Please contact us if you have any questions. We'll be glad to help! Remember that we offer free estimates.