Tips To Help Protect Your Cedar Fence From Weathering
Texas heat can damage a wood fence, but with good maintenance, you can make it look like new again. Cedar is a great lumber for outdoor features like fencing, but it has a fading color problem. As your cedar fence ages, the sun causes the wood to turn a gray color, making your fence seem old and aged, even if it was installed recently. Protecting your fence with the right sealers and doing regular maintenance helps to protect the cedar lumber from the Texas sun. Here are some tips to help protect your cedar fence from weathering: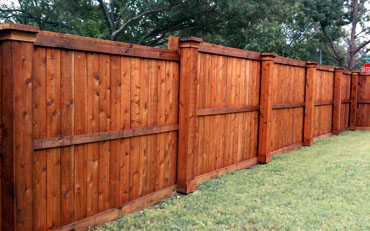 Keep Cedar Fence Clean and Free of Debris That Causes Weathering
Dirt and grime on your fence may be contributing to the discoloration of lumber. Make sure you clean the fence regularly to keep it free of debris. Use a broom to brush off loose debris, and occasionally use a garden hose to wash any major build up on the fence. Sweep off loose dirt and debris with a broom to limit the use of water to clean the untreated cedar lumber.
Control Splashed Up Dirt by Adding a Ground Cover to Landscaping Around the Fence
The most common cause of fences becoming covered in dirt and grime is splashed up from the ground, which is why rot most often starts from the bottom. You can control the splashing up of dirt by using a ground cover, such as gravel or stone, but it is best not to use organic materials like bark or rock. In addition, any plants along the fence should have space between them and the fence.
Preserve the Color of Cedar Longer with Cleaning, Pressure Washing, and Occasional Staining
As your cedar fence ages, the lumber eventually turns a gray color or fades. This natural process happens as the wood is exposed to the elements. After a few years, pressure washing the fence will help restore its color. When pressure washing cedar, use a wide spray attachment and lower pressure. Once you have finished cleaning the grime and the wood has color again, apply a fresh coat of cedar sealant for several more years of protection from the Texas heat.
With regular care and cleaning, your fence will last for years and always look great. You can expect an occasional repair and may need help with larger tasks like staining. Contact us to get help with your fence repair needs and a sealant to protect wood from the Texas heat.