Woodcrafters Fencing Voted Top Fencing Company in Waxahachie
Woodcrafters Fencing is proud to be named a 2022 Star Award Winner by the readers of the Waxahachie Sun. View our award page here. Thank you to everyone who voted. We look forward to earning your business over and over again!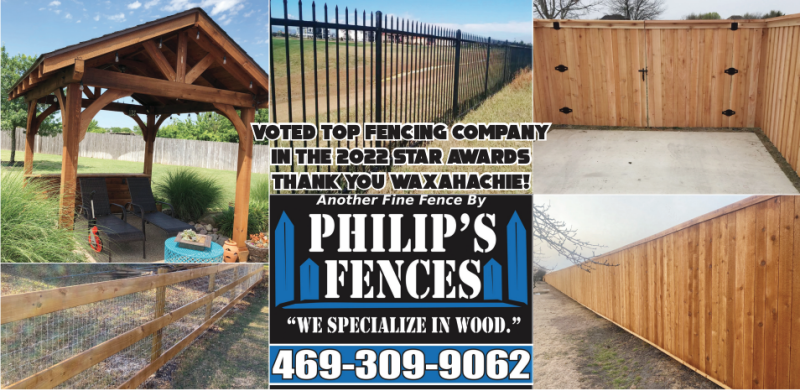 Our family-owned and operated Woodcrafters Fencing has been building quality fences for more than 25 years. Based in Waxahachie and serving Ellis County and the surrounding area, our highly skilled team is happy to provide an estimate for your home improvement projects, whether a privacy fence, gate, pergola, deck, or other outdoor living amenity.
With our competitive prices, professional craftsmanship, and unmatched commitment to our customers, we always find a way to satisfy your fencing needs at a competitive price. We offer the highest level of professional craftsmanship and an unmatched commitment to you, guaranteeing our work for every fence we build.
We supply and install wrought iron and cedar wood fencing for homeowners and businesses. We also handle a broad array of commercial and exterior construction projects for fencing, gates, and concrete construction. Our clients have state of the art options for gates and access control units.
Wood privacy fencing is one of the more popular fence styles and, if properly maintained, can last up to 20 years. Changes in widths and accents allow us to easily customize different looks, allowing you to match the practical needs of a privacy fence with the finish of custom carpentry.
Ornamental iron fencing provides an attractive look with minimal upkeep. Our powder coated finish allows you to think less about your fence and more about your life. Options include flat rail and extended iron picket fencing. Our pergolas offer the best of both worlds: access to natural light when you need it and protection from the harsh Texas sun when you don't.
At Philip's Fences, we will work with you to design the pergola that is the perfect fit. We also specialize in building the highest quality decks to your specifications using the finest materials and craftsmanship. Our deck building team takes great care to ensure you have a beautiful deck you can enjoy for years to come. For more information, give us a call at 469-309-9062 or contact us here.