Enhance Your Outdoor Living Space and Enhance Your Life
A home is simply not a home if it lacks ambiance outside. Outdoor entertaining and outdoor living offer a multitude of opportunities to enjoy the seasons with family and friends. But enjoying your backyard or garden often requires a bit more privacy. Not seclusion, but rather, an area specifically designed to enhance the scenery and experience.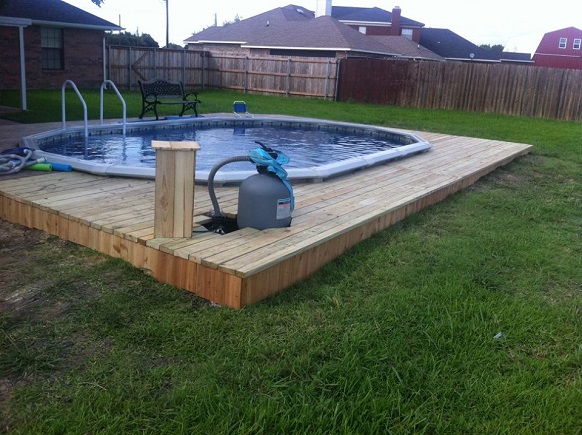 Picture this: the warm evening air, a comfy deck chair, a few friends and some libations. Great conversation and snacks, all spread out on a slab of concrete. Something wrong with this image? Your perfect outdoor living space will never reach its fullest potential unless you complete your space the right way: with a quality floor, covering or design element.
Deck Out Your Backyard
Deck design can be quite varied. Long, short, round, and raised are only a few of the variations, not to mention the multitude of wood choices available. Having a deck brings you closer to nature. It expands your living space too. Decks and parties go hand-in-hand. Summer festivities to late night gatherings, to relaxing hot tub fun, a deck brings you a space to relax and enjoy some downtime.
Choose a Gazebo
Like a deck with a roof, choosing to have a gazebo installed only increases your outdoor living experience. This design element offers protection from the sun and heat, yet at the same time lets the mild breezes in and offers a gathering place for family and friends, as well as a perfect seating area for viewing.
Extend your Space with a Pergola
Sort of an even more open gazebo, a pergola offers shade and can even extend a building by offering open covering of a terrace or grassy or decked area. In a garden setting, a pergola can provide additional growing space for climbing plants.
Create the Perfect Retreat with an Arbor and Trellis Accents
Trellises and arbors enhance your garden design as much as a quality deck enhances your backyard. Explore different design options for your plants, trees, and flowers to flourish. Your backyard will become a different world with an arbor retreat positioned within overhanging leaves and branches.
Choose Woodcrafters Fencing
The highly skilled team at Woodcrafters Fencing offer competitive prices, professional craftsmanship and are committed to our customers. From fences to supplies, we have the expertise to satisfy all of your fencing needs. Consider us for your next outdoor living enhancement. We guarantee every structure we build. Contact us for a project estimate today!