How to Use Your Pergola for Entertaining Guests
A pergola is not just a beautiful addition to your outdoor space; it's also a versatile structure that can be the centerpiece of your entertaining area. With its open design and elegant structure, a pergola offers countless possibilities for hosting gatherings, parties, and outdoor events. At Woodcrafters Fencing, we understand the importance of creating a functional and inviting space for entertaining guests. In this blog post, we'll guide you through the process of using your pergola to its fullest potential.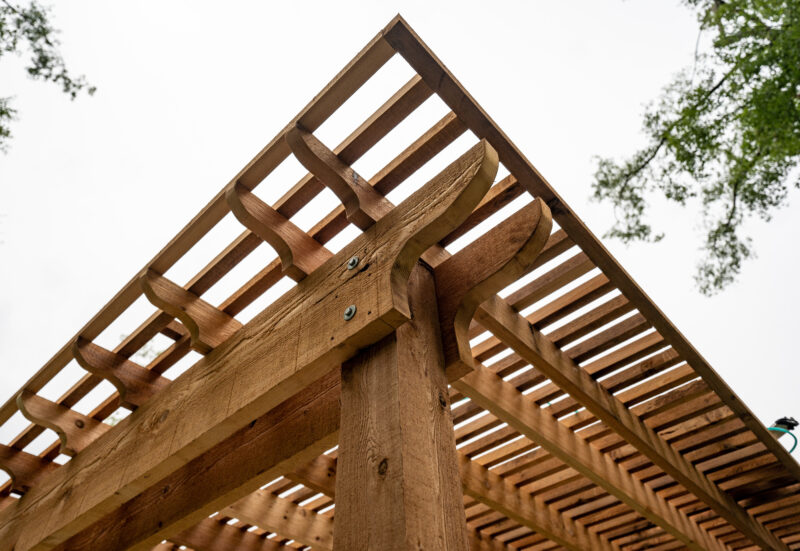 Create a Welcoming Ambiance
The first step in using your pergola for entertaining is to create a welcoming ambiance. Consider adding string lights, lanterns, or fairy lights to create a warm and inviting atmosphere. Soft lighting not only sets the mood but also extends the usability of your pergola into the evening hours. You can also incorporate candles, outdoor torches, or a fire pit to add a cozy and intimate feel to your entertaining space.
Outdoor Dining Experience
One of the most popular uses of a pergola is for outdoor dining. Set up a dining table and chairs under the pergola to create an al fresco dining experience. You can enhance the ambiance by adding a centerpiece, such as fresh flowers or a decorative lantern. Consider installing a retractable canopy or curtains to provide shade and protection from the sun during daytime gatherings. This will allow you and your guests to enjoy the meal comfortably while taking in the beauty of your outdoor surroundings.
Lounge and Relaxation Area
Transform your pergola into a comfortable lounge and relaxation area for your guests. Set up outdoor sofas, chairs, and coffee tables to create a cozy seating arrangement. Add plush cushions and throw pillows for extra comfort and style. This space can serve as a retreat for casual conversations, reading, or simply unwinding with friends and family. Consider incorporating side tables or a bar cart to hold beverages and snacks, creating a convenient area for refreshments.
Outdoor Kitchen and Bar
Take your entertaining to the next level by incorporating an outdoor kitchen or bar into your pergola space. Install a built-in grill, countertop, and storage cabinets to create a functional cooking area. This allows you to prepare meals and interact with your guests while enjoying the outdoor atmosphere. Consider adding a bar area with stools where guests can gather and enjoy drinks or appetizers. With an outdoor kitchen or bar in your pergola, you can easily host outdoor cooking parties or cocktail hours.
Entertainment Zone
If you love hosting movie nights or watching sports events with friends, turn your pergola into an outdoor entertainment zone. Install a projector and screen, and set up comfortable seating with pillows and blankets for a cozy viewing experience. This is a perfect way to enjoy movies under the stars or cheer on your favorite sports teams in a unique outdoor setting. Don't forget to have a sound system in place to enhance the audio experience.
Greenery and Vertical Gardens
Enhance the beauty of your pergola by incorporating greenery and vertical gardens. Install trellises or plant climbing vines around the pergola structure to create a natural and lush atmosphere. Hang potted plants or create a vertical garden along the sides of the pergola to add color and texture. Not only does this create a visually appealing backdrop, but it also helps to provide shade and a sense of privacy.
Seasonal Decorations
Make the most of each season by incorporating seasonal decorations into your pergola space. Hang festive decorations for holidays or incorporate seasonal flowers and foliage for a fresh and vibrant look. This allows you to change the ambiance and create a unique atmosphere for each occasion. Whether it's stringing up lights for the winter holidays or adding pumpkins and gourds for autumn gatherings, seasonal decorations can transform your pergola into a magical space.
Trust Woodcrafters Fencing for Your Pergola Vision
At Woodcrafters Fencing, we understand the importance of creating a versatile and inviting space for entertaining guests. Our team of skilled professionals can help you design and build a custom pergola that perfectly complements your outdoor area. With our expertise in craftsmanship and attention to detail, we can bring your pergola vision to life. Contact us today to start transforming your outdoor space into a captivating entertaining area that will impress your guests.