4 Best Deck Materials for Your Outdoor Living Space
Whether your project is a deck, covered porch or patio, you will need to choose the surface material. Decking materials are available in conventional lumber, composites, vinyl and metal; each of these different types of materials have their advantages. If you want the look of wood without the maintenance, composites are great. Metal and vinyl are good for keeping the space beneath your deck dry. There are also domestic and tropical wood materials that give you a naturally durable wood decking surface. Here are some of the best materials to choose from for your new decking project: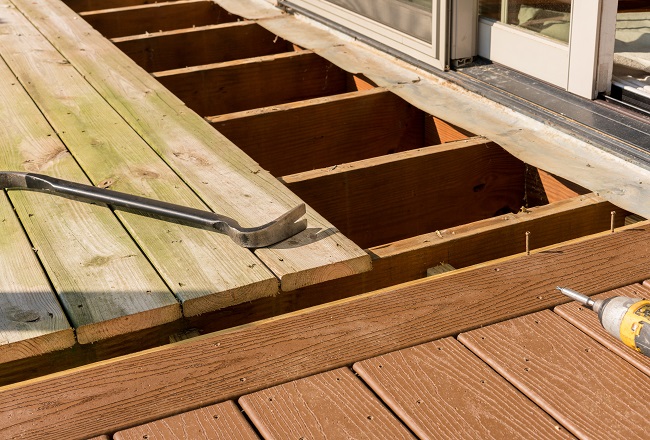 The Best Natural Lumber for Outdoor Wood Surfaces
When it comes to wood on your outdoor surfaces, treated pine is the conventional choice. Pine is the cheapest choice of materials, but needs maintenance, and will not last as long as other more expensive woods. Hardwoods and wood species like cedar often outlast the conventional treated pine materials. Some good choices for natural wood surfaces include:
Tropical Hardwood—Trees that grow in rain forests are naturally resistant to problems with rot and decay. These hardwoods are known to be the most expensive decking materials, but Brazilian Walnut or Ipe have become popular, and responsible forestry management have made them popular and more affordable choice.
Domestic Hardwood for Outdoor Projects—There are also domestic hardwoods that can be used for outdoor wood surfaces. Cedar is a popular choice of outdoor wood because it is durable, affordable and naturally resistant to insects and decay. There are two main types of cedar; red and white cedar, which have different properties. White cedar will have a naturally white color that turns yellowish as it ages, while the red species has red tones that turn to darker, reddish-brown color as they age. Redwood, Oak, and Black locust are other domestic materials that are durable enough to use for outdoor surfaces.
For a surface that has a natural look and is durable, these woods will give you an alternative to the conventional treated pine.
New Composite Lumbers as An Affordable Alternative to Natural Woods
Overtime, even the most durable woods will need maintenance and eventually need to be replaced. Natural wood materials can also be very expensive, which is why many homeowners choose to use composite lumber materials. Composites are made of mixture of wood fiber, plastic, rubber and a bonding agent that holds them together. These materials are great because they give you a choice of colors and styles for your deck surface. Composite lumber will need a minimal amount of maintenance and last for years. It is more affordable than wood and never needs a coat of stain.  Some of the composite decking options include:
Synthetic Hardwood Styles—The first composite lumber gave you few choices of colors, but today, this has changed. Hardwood style surfaces resemble the costly wood counterparts, but are more durable and cost less.
Affordable Composites with Different Colors—If you are looking for a durable and affordable surface for your deck, conventional composites are a good choice. These materials are available in solid-colored greys, blacks and browns. Solid colors will be more affordable than the high-end products that have simulated wood grain patterns and colors.
More Outdoor Surface Options with Metal Decking and Lightweight Concrete
Do you have a second-floor deck and wish you could have a surface that is different from conventional decking materials? Using corrugated metal decking and lightweight concrete, your deck surface can be a custom acid stain finish, tile or other custom surface. Even though lightweight concrete will make it possible to do different surfaces on your deck, a beefier deck structure will be needed to support the extra weight. Lightweight concrete deck surface finishes that are commonly used include:
Acid Stained Concrete Finish—If you want to have the look of stone or custom designs, acid staining techniques transform concrete surfaces into elegant works of art.
Simulate the Look of Stone with Concrete Overlay—Concrete overlay is a finishing technique that is often used to renovate old surfaces. It can also be used to create a natural stone look over lightweight concrete on your deck.
Lightweight Tile Finishes—If you want to have a custom tile surface on your deck, there are many different types of materials to choose from. The tile can be used to create custom patterns, mosaics and other custom designs. When choosing the tile, try to find a lighter floor tile material.
Vinyl and Dry Decking Systems to Give the Area Beneath Your Deck Dry Space
Space beneath decks often becomes lost, but with the use of a dry decking system, you can make the most out of the space under your deck. Vinyl decking systems come in designs that allow the water to drain off the deck instead of through the cracks. This is a great solution to add a screened porch or finished sunroom beneath your deck. If you have an existing deck or are planning on using conventional decking materials, there are also soffit systems that can be installed beneath the deck to keep this area dry. Some of the uses of vinyl decking that you may want to consider for your outdoor projects include:
Waterproof Vinyl Decking—Today, new vinyl decking systems that are affordable, waterproof and attractive are available. These materials look like more conventional decking surfaces, but are designed to shed water. Waterproof decking system allow you to use the space beneath your deck for additional space for storage and finished spaces.
Solid Vinyl Surface—Watertight vinyl surfaces can be used as an affordable material to protect the deck structure and keep the space beneath dry. It is an affordable alternative to lightweight concrete if you want a solid surface. Vinyl is also a good option to install over an existing deck that needs repair.
Under-Deck Dry Soffit Systems—With an existing deck or conventional decking materials, vinyl soffit systems are great to utilize the space beneath your deck. These systems attach to the joists and beams beneath the deck to allow water to shed away from the deck instead of under it.
When you need a deck surface for your home, choosing the right materials will save you money in the long-term with a more durable surface. Contact us if you are ready to get started on an outdoor deck project, and we will help you with choosing the best materials for your outdoor surface.