The Benefits of Staining Your Fence
Fence staining produces immediate results, as well as long term benefits.  Choosing a wood stain is an important step when building a new fence, but it is also crucial during other stages of your fence's life.  You may want to consider staining your fence if the wood is looking worn out, or if it has not been sealed in several years.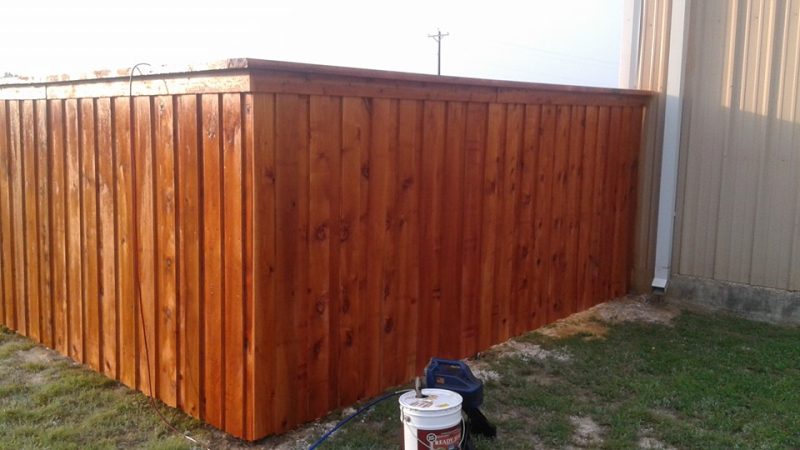 Spectacular Short Term Results
Although staining your fence increases its long-term survival, you don't have to wait a long time to see all of the results.  Here are some of the immediate benefits of fence staining:
Color – The wood stain you choose for your fence will affect the overall color and appearance.  That means you can choose a pigmented stain that matches the color palette of your outdoor living space.
Added Value – If you think your house might end up back on the market, it is a great selling point to potential buyers that your fence is sealed and protected.  Interested parties will appreciate a fence that has been well taken care of.
Restoration – Bring your old, weathered fence back to life.  If your fence has never been stained, or if it's been so long that you can't remember when it was last sealed, then now is the time.  You can make your fence look several years younger, and protect it for many years to come.
Build Your Fence For Endurance
Although having an attractive fence is one of the great outcomes of wood stain, you can also plan on your fence enduring more over a longer period of time.  Here are some of the many long-term benefits to staining your fence:
Increased Life of Fence – Wood stain will seal and waterproof your fence, therefore decreasing the general wear and tear.  That means your fence will look better, longer.
Protection – Fence stain can protect the wood against mildew, UV rays, and extreme weather.  Don't let your wood decay and turn gray.  Preserve your fence and enjoy it for many years to come.
Choosing the Right Stain for Your Fence
A trained professional can help you choose the right stain for your fence, and help you apply the stain for maximum results.  Woodcrafters Fencing is an award-winning fencing provider in Texas, and we can help you build, stain, and maintain your fencing.  Our experienced professionals help with fences, decks, and other outdoor features.   Contact us today to learn about all of the ways we can improve your outdoor living space.